The Return of ... the Cassette
The Return of ... the Cassette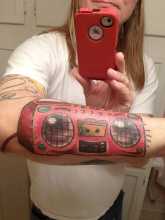 Vinyl came back – can tapes be next?
Danny Barnes, revered punk rock banjo player for Nineties locals the Bad Livers, loves cassettes. From his now longtime home in Seattle, he gets downright evangelical about his Minner Bucket Records putting out "handmade experimental music" on cassette. Like many who grew up in the Seventies, he was surrounded by tapes.
"My point of reference is a mixtape. I grew up getting 'em, making 'em, trading 'em."
He preaches the cassette gospel, embracing their practicality ("If you're a punk band in Galveston and you know you're gonna sell 25 copies of something, you can do a lot better making a tape really low-budget, then give away the download"), their place in music history ("The mixtape was the lingua franca of the punk rock weirdo"), and aesthetics ("Electric guitars on a cassette recorded really hot is one of the coolest sounds ever!")
Cassettes were once the most common prerecorded music format alongside vinyl. Their sales peaked in the Eighties after Sony introduced the Walkman, then tapered off as CDs obliterated all other musical formats through the Nineties. Barnes sees the first truly portable music format as a still-revolutionary medium for DIY music. He's not alone.
Local record stores are expanding their stock of new-release cassettes. One independent buzz label of the moment, L.A.'s Burger Records, was built on the back of cassettes. And don't look now, but September 7 marks the inaugural Cassette Store Day, celebrating all things cassette with special releases, etc.
Stop shaking your head. You humored Record Store Day right? It helps account for vinyl comprising 35% of all music sold in the first quarter of 2013.
 - - - - 
View rest of the story at the Austin Chronicle >> http://www.austinchronicle.com/music/2013-08-30/the-return-of-the-cassette/