new 45 rpm record out now!!!!!
new 45 rpm record out now!!!!!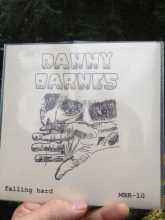 it's new music from the lab! side A is a brand new song called falling hard. [here is a link to a live recording as it premiered at northwest string summit 2013, with darol anger, drew emmitt, and larry and jenny keel: link to the archive.] 
the B side is a song called money moves up, which is a lyrical idea i got from watching a noam chomsky lecture. it's a hard luck banjo song with a sample of these trucks going by that i dug up. 
the records are on multi-colored vinyl, all swirly and each one is slightly different. the cover image was drawn by minner bucket records labelmate stripmall ballads. 
you can order the record here.
WFHB in bloomington indiana was the first station to play falling hard, i hand delivered it when i played at the venue across the street there on 7.25.13. the track is in spinitron now so you should be able to request the song from any weirdo [good] dj.