Danny Barnes on NPR Mountain Stage
Danny Barnes on NPR Mountain Stage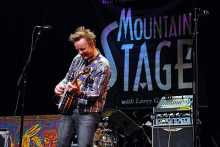 Danny Barnes appeared on Mountain Stage last February (2010.) The episode is scheduled for distribution on affiliate stations on January 28, 2011. For a complete list of stations and airtimes, please check here:
http://www.mountainstage.org/mtnstageaffiliates.aspx
The following week, his set will at posted at NPR.org/mountainstage and archived for continued access.
You can also connect with Mountain Stage on Facebook at facebook.com/mountainstage and the podcast is available on iTunes and Feedburner.