Barnes Unveils the Barnjo at Horning's Hideout
Barnes Unveils the Barnjo at Horning's Hideout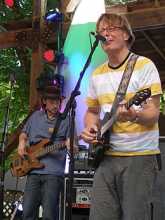 Danny Barnes unveiled his new, custom-made banjo / electric guitar hybrid at the Northwest String Summit in North Plains, Oregon last weekend.
Want to hear what it sounds like? Thanks to Taper Mark, the show is available for free streaming and download at http://www.archive.org/details/dannybarnesandfriends2010-07-18.soundboard.flac16.
Several friends - including Jeff Austin and Darol Anger - joined him for songs from Pizza Box and other records (including an old Bad Livers song and an new song he wrote with Jeff Austin).