news
Bryant Liggett, the GM for KDUR in Durango says this about Falling Hard
"Falling Hard's banjo intro is classic Barnes, excelling into what's now known as Barnyard Electronics. A jagged tale of the working class over an Earl Scruggs riff layered with industrial rhythms and Bronx scratching." Bryant Liggett, DJ and GM for KDUR in durango CO.
kdur in durango plays the new single, falling hard
we got an email from the PD over at KDUR, one of the great independant radio stations in the country, over in durango colorado, they just played the A side to the new single, falling hard.  thank you!!!
The Return of ... the Cassette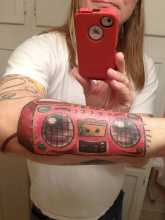 Vinyl came back – can tapes be next?
Danny Barnes, revered punk rock banjo player for Nineties locals the Bad Livers, loves cassettes. From his now longtime home in Seattle, he gets downright evangelical about his Minner Bucket Records putting out "handmade experimental music" on cassette. Like many who grew up in the Seventies, he was surrounded by tapes.
"My point of reference is a mixtape. I grew up getting 'em, making 'em, trading 'em."
He preaches the cassette gospel, embracing their practicality ("If you're a punk band in Galveston and you know you're gonna sell 25 copies of something, you can do a lot better making a tape really low-budget, then give away the download"), their place in music history ("The mixtape was the lingua franca of the punk rock weirdo"), and aesthetics ("Electric guitars on a cassette recorded really hot is one of the coolest sounds ever!")
Cassettes were once the most common prerecorded music format alongside vinyl. Their sales peaked in the Eighties after Sony introduced the Walkman, then tapered off as CDs obliterated all other musical formats through the Nineties. Barnes sees the first truly portable music format as a still-revolutionary medium for DIY music. He's not alone.
Local record stores are expanding their stock of new-release cassettes. One independent buzz label of the moment, L.A.'s Burger Records, was built on the back of cassettes. And don't look now, but September 7 marks the inaugural Cassette Store Day, celebrating all things cassette with special releases, etc.
Stop shaking your head. You humored Record Store Day right? It helps account for vinyl comprising 35% of all music sold in the first quarter of 2013.
 - - - - 
View rest of the story at the Austin Chronicle >> http://www.austinchronicle.com/music/2013-08-30/the-return-of-the-cassette/
new 45 rpm record out now!!!!!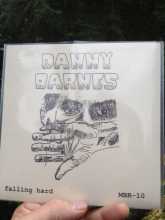 it's new music from the lab! side A is a brand new song called falling hard. [here is a link to a live recording as it premiered at northwest string summit 2013, with darol anger, drew emmitt, and larry and jenny keel: link to the archive.] 
the B side is a song called money moves up, which is a lyrical idea i got from watching a noam chomsky lecture. it's a hard luck banjo song with a sample of these trucks going by that i dug up. 
the records are on multi-colored vinyl, all swirly and each one is slightly different. the cover image was drawn by minner bucket records labelmate stripmall ballads. 
you can order the record here.
WFHB in bloomington indiana was the first station to play falling hard, i hand delivered it when i played at the venue across the street there on 7.25.13. the track is in spinitron now so you should be able to request the song from any weirdo [good] dj.
Video of Overdue from e-town with Nick Forster
New track 'One' currently on nationallly syndicated Acoustic Café
'One' from Danny Barnes' latest release 'Rocket' is currently featured on the Acoustic Café.
The track appears on Segment 5 for the week of 11/14/11-11/20/11 in show #879, alongside Peter Gabriel, Dawes, Bruce Springsteen, Ani Difranco, and Glen Campbell (among others.) View the entire playlist and listen to it from the acafe.com website.
Barnes will be on ETOWN two weeks in a row starting next week
Pages