news
Video Interview with Lingua Musica
Danny Barnes on NPR Mountain Stage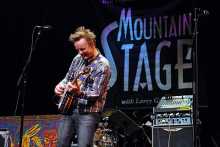 Danny Barnes appeared on Mountain Stage last February (2010.) The episode is scheduled for distribution on affiliate stations on January 28, 2011. For a complete list of stations and airtimes, please check here:
http://www.mountainstage.org/mtnstageaffiliates.aspx
The following week, his set will at posted at NPR.org/mountainstage and archived for continued access.
You can also connect with Mountain Stage on Facebook at facebook.com/mountainstage and the podcast is available on iTunes and Feedburner.
Barnes Unveils the Barnjo at Horning's Hideout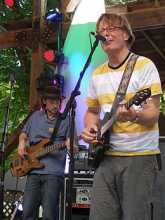 Danny Barnes unveiled his new, custom-made banjo / electric guitar hybrid at the Northwest String Summit in North Plains, Oregon last weekend.
Want to hear what it sounds like? Thanks to Taper Mark, the show is available for free streaming and download at http://www.archive.org/details/dannybarnesandfriends2010-07-18.soundboard.flac16.
Several friends - including Jeff Austin and Darol Anger - joined him for songs from Pizza Box and other records (including an old Bad Livers song and an new song he wrote with Jeff Austin).
Danny on New Herbie Hancock Album
We are thrilled to announce Danny's appearance on Herbie Hancock's new concept album, 'The Imagine Project'. Danny performs on "Tomorrow Never Knows", which features guest vocals by Dave Matthews. Other artists include Anousha Shankar, Jeff Beck, John Legend, The Chieftans, Seal, India Arie, Pink, Derek Trucks, Susan Tedeschi, Chaka Khan, K'Naan, Pink, James Morrison, Wayne Shorter, and Lisa Hannigan.
Utilizing the universal language of music to express its central themes of peace and global responsibility, the musical collaborations combine Hancock's genre-defying musical vision with the "local" musical identity of cultures from around the world. "Music truly is the universal language," says Hancock, "The Imagine Project" will explore that concept across the globe, uniting a myriad of cultures through song and positive creative expression. My hope is that the music will serve as a metaphor for the actions taken by the inhabitants of this wonderful planet as a call for world harmony on all levels."
A global musing on the power of song to bring people together, the recordings for Herbie Hancock's "The Imagine Project" have taken place in each collaborator's home territory whenever possible, and embody the spirit, hearts, sounds, colors and flavor of each locale – a complete sensory musical experience. The result is an album/film without borders, both a celebration and a call to action.
Listen to Barnes with DMB at Bonnaroo
Etown taping with Danny is airing this Wednesday, June 16th
Etown taping with Danny is airing tomorrow, Wednesday, June 16th for 1 week across the country!
Jakob Dylan and Danny Barnes, presented by 97.3 KBCO
http://www.etown.org/listen.summary.php?id=306&air_date=2010-06-16
Air Dates: Jun 16-Jun 22
This week's eTown highlights writers and readers! Singer-songwriter and Grammy winner Jakob Dylan returns to eTown with a haunting new sound and a brand new band (for this show he pared down to a trio with Kelly Hogan and Paul Rigby). Jakob features music from his latest project, Women & Country. Also, innovative and genre-bending artist and banjo pioneer Danny Barnes visits. He's been called "one of the most wildly inventive musicians on the planet." Hosts Nick & Helen Forster and the eTones dig in instrumentally and vocally to support him. And the E-Chievement Award is presented to a dog-loving Chicagoan who is helping inner-city kids read. Tune in to this week's episode of eTown!
Barnes Plays Around Summercamp
Danny Barnes didn't have his own set (?!?) at the 2010 Summercamp Festival in Illinois last weekend but he sure did play around.
On Friday, Barnes joined Yonder Mountain String Band at the end of their set for 3 songs: "Ragdoll," a song Barnes and Jeff Austin wrote together, "Kentucky Mandolin," and "Boatman." Then he practiced with Warren Haynes and worked up the Rolling Stones' "Wild Horses," which Barnes and Jeff Austin played with Gov't Mule that night. (you can download the set here at btree.)
On Saturday, Barnes played an afternoon set with Chuck (from moe.) as a duet. The set was in conjunction with the WhyHunger organization who also organized the moe./Barnes show in New York City earlier this year. They played some Barnes songs and some of Chuck's song.
That evening, Danny joined Keller Williams during his set. They played 2 Barnes tracks that Keller has recorded: "Get It While You Can" and "Cornpone Sally and Her Haybaling Wagon Wheels." Later that night, he joined moe. on their set and played "Punchline."
Pages